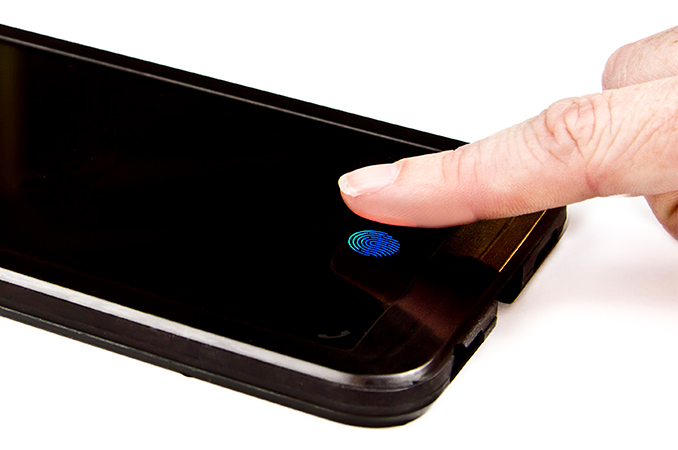 Synaptics this week introduced its first Clear ID FS9500 in-display optical sensor that can be installed under the surface of an OLED screen. The fingerprint reader works faster than facial recognition and can be used in any environments, including dark rooms and sunny beaches, Synaptics says. The first smartphones featuring the technology are due in Q1 2018.
Biometric authentication has become a mandated feature of every smartphone in the recent years, but integrating fingerprint sensor has become a challenge as screen-to-body ratio is growing and many front panels have no space for the reader. Some smartphone makers install fingerprint sensor on the back panels of their devices, other, like Apple, introduce facial recognition technologies that require IR and RGB sensors accompanied by appropriate processing resources. Synaptics argues that fingerprint sensors on the back are uncomfortable to use, whereas facial recognition technologies are relatively slow and can be fooled. By contrast, Synaptics' latest Clear ID FS9500 sensor is hidden under the screen on the front and it works as fast as users come to expect from similar devices in the recent years.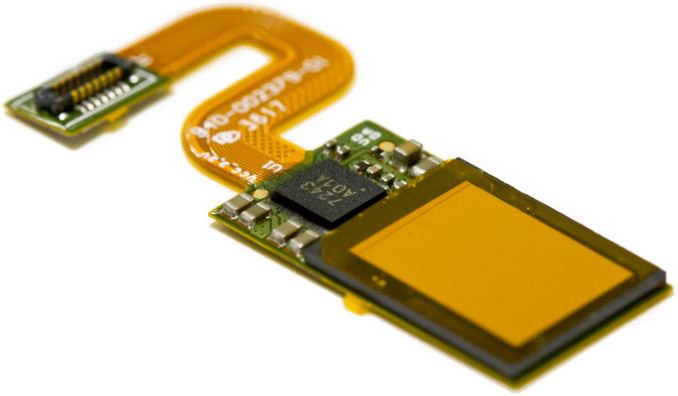 The Synaptics Clear ID FS9500 fingerprint sensor is a tiny CMOS device that sits below the AMOLED display assemly and captures the reflected fingerprint between and through the OLED pixels. Synaptics said that the captured fingerprint has a very high resolution, but naturally does not quantify this claim. To make a fingerprint reflect, a part of the screen has to be lit-up, so while the device itself only uses 80 mA, the screen consumes some additional power too (Synaptics does not disclose the lowest brightness level of the display required for scanning as it depends on many factors). Meanwhile, Synaptics uses accelerometers and other sensors inside the phone to activate the sensor and turn on an appropriate area on the screen. The activation happens instantly, then it takes 0.7 seconds to scan the fingerprint, match it and grant or deny access. By contrast, Synaptics says, it takes modern smartphones about 1.4 seconds to scan a face.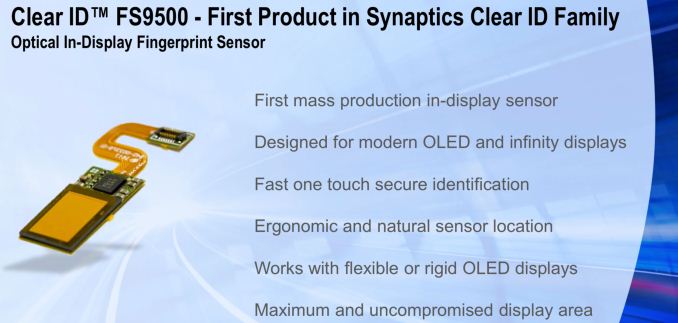 The SF9500 does not support Match-In-Sensor technology, so the matching is performed by host using Synaptics' Quantum Matcher software. It is noteworthy that the software Synaptics supplies with its sensors is quite complex. Apart from matching, the software is responsible for activating the reader and the screen whenever the phone is touched and for other things (like taking into account outside conditions that may affect minutiae). The new fingerprint sensor from Synaptics connects to host using the SPI bus. Depending on application and requirements, device manufacturer may choose to use an AES-encrypted SecureLink interface (e.g., if the SF9500 is installed into a bezel-less tablet, or a laptop display) if required.
The Clear ID FS9500 is "smart" enough to detect fingerprints in sunlight and bright conditions, take into account wet and/or cold fingers, detect spoofed fingerprints and so on. It remains to be seen how the sensor behaves when individual light-emitting pixels burn-in over time, but since Synaptics has a robust program stack supplied with its sensors, it can tweak them using software to compensate for screen degradation.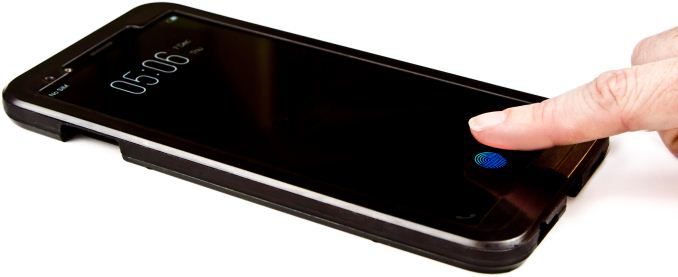 According to Synaptics, the Clear ID SF9500 sensor itself is only 0.69 mm thick and its integration does not make smartphones significantly thicker. The sensor integration process has to be performed by the screen manufacturer at a fab where display assemblies are made and Synaptics is working with appropriate makers. The process is not very complex, so it does not make final devices considerably more expensive, says the developer.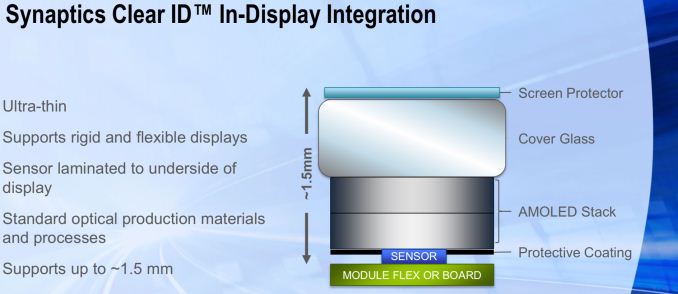 Synaptics initiated mass production of its Clear ID FS9500 sensors this month and will start their commercial shipments in the coming weeks. The company says that the first smartphone that uses the in-display fingerprint reader will be available in early 2018. Synaptics naturally does not disclose the manufacturer of the device, but only says that it is one of the Top 5 smartphone suppliers. Meanwhile, since the FS9500 sensor only works with OLED screens, this big producer of the smartphones has to have access to the AMOLED technology. Synaptics plans to showcase the handset at CES, but it is unclear whether the device will have been announced by that time, or Synaptics will show it camouflaged. Anyway, the first smartphone featuring the FS9500 is incoming and it will be available soon.
What is your opinion about this post? kindly let us know by your comment.
To get our top Technology News, Gadget review, Latest phone and laptop stories delivered to your inbox, kindly sign up for our
news letter programme
.